THE SUSPENDED BRIDGE
in Niouc, Valais, Switzerland.
ONE OF THE MOST STUNNING MAN-MADES STRUCTURES IN THE REGION
THE FAMOUS 190 METERS SUSPENDED BRIDGE
in Niouc, Valais, Switzerland.
Set up for irrigation in 1922, it is now only used for sightseeing and spectacular activities!
Find us
The bridge is accessible to everyone during our opening hours.
Access to the bridge is 5.-, free for under 16 years old.
We are open from April till October every Saturday and Sunday.
From mid July to mid August also from Tuesday to Sunday
To organize an extra session, please contact us by phone on +41794472800.

Meet us at our reception/bar "Le Perchoir" next to the bridge, 15 minutes before your reservation.
Our parking is very very close.
Find us
We are open in all weather conditions.
The bridge was built in 1922 is 200 meters long, 190 meters high and 50 centimeters wide. Crossing this bridge is EPIC! Bought by the Association of Friends of the Suspension Bridge in 1981, it has since been repainted, renovated and completely secured to allow all visitors to enjoy it as one should! A short stop at the jumping platform seems mandatory to admire jumpers of all kinds launching off from this breathtaking structure!
THE HISTORY OF THE BRIDGE
We invite you to consult the entire history of this wonderful man-made structure on the website of its owner: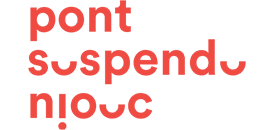 https://pontsuspendu.ch/le-pont/